Jono's GT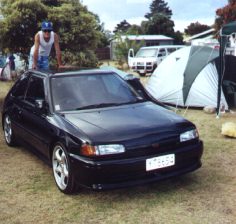 1992 mazda familia gt
1600cc 16v injected

mods:
fgk exhaust system,jamex springs,18"tsw trophies with scorcher rubber (now have different wheels :P)
full gtx interior,factory guages (voltage,vacuum,oil)
tints,rear spoiler fitted to bottom of rear bumper
sideskirts,pioneer cd player, pioneer 6x9s power acoustic amp.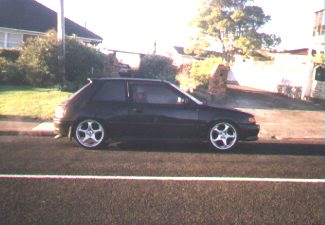 James'87 infinity
87 mazda infinity 1600 dohc turbo 2wd
simota air filter racepro blowoff valve
rewritten chip 2 1/2" exhaust off the turbo
mazdaspeed lsd and swaybars Mazstyle GT-R
bumper and vents 15" reflexes
lowered with snells and sabre springs
tints jamex bucket seat
autometer pro-comp ultralite boost guage
blitz turbotimer/digital boost guage
sports wheel, momo knob and pedals
adjustable boost system (15 psi)
sony cd player 4" clarions and kenwood 6x9s.

Andrew's GTX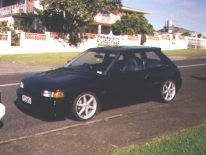 1991 mazda gtx

lowered with kingsprings and custom shortened shocks.3" mandrel exhaust with straight through stainless muffler,bleed valve,pioneer cd player, 5 1/4s, tweeters,6x9s,15" rockford punch sub and amp.Mazdaspeed carbonfibre gearknob
metallic blue mazda strut braces....